Capturing Fly A4
Source: TV
Layers: 3
No sketches available
Cel Number: A4, E4, F4
Standard size

No Background

Added 10/29/2004
Updated 3/23/2013

In this combination from the start of this cut, we see Sakura concentrating on the capture, and the Fly struggling against its bonds. Sequence Numbers: A4 (Fly), E4 (blue "power" circles), F4 (Sakura).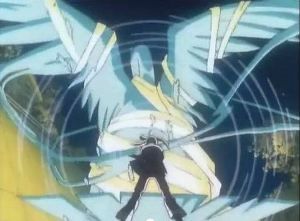 This cel, along with the A10, A12, and A13, is part of a short "bank" sequence at the start of this cut, in which The Fly flaps and twists five times while resisting Sakura's magic.




SENSEI CHECK!

Whoever was the first owner of the cels in this cut took special care with the ones in this section, as all three sets I've obtained have all three layers separated from each other. It is, however, a set that was artificially created by combining the A4, E4 and F4 cels; in fact these do not appear together in the cut. The F-layer (Sakura) uses only F1, F2, and F3 throughout the first part of the capture, and, according to the timing sheet, F4 isn't used until close to the end of the cut. However, the coloring of this cel is close to those in the early animation, so this cel combination is the most accurate-looking of the gallery.

There were many more Fly cels than Sakura cels, and so the first dealer went on to match others to the twelve "power circles" and make saleable combinations. However, this meant that some of the sets included the F1'-F16' cels, which are, as you'll see, no more than silhouettes. (I suspect they were used as masks for some effect that I can't immediately identify.)

And a few cels from later in the cut were sold separate from the Sakura layers, though I have not seen any show up for many years. I suspect that many of the cels used in this classic cut were, in the end, simply discarded. That makes good combos like this one all the more precious in my eyes.

In all I was able to preserve (besides the gengas):


Twelve A-level cels of The Fly: A4, A10, A12, A13, A19, A20, A24, A25, A35, A37, A42, and A47.

Three E-level "power circle" cels: E4, E10, and E12.

Eight F-level Sakura cels: F4 (contrasty battle colors), F3, F5, F6, F10 ("normal" colors), and F4' and F6' (black silhouettes).


When I received layers together, I've scanned them that way, but since the cels were not stuck I was also able to sandwich in layers from other sets to complete the images.




SENSEI CHECK EXTRA!

An interesting detail is that if you take away the top two layers, you can see the lozenge of the emerging card in the center of the A4 cel. This card forms the artistic center of this composition, and the animator needed to represent it to keep the fluid motion of the Card's disintegration focused and visually credible. So it appears in all the gengas and is even painted on the A-level cels, even though it would never be seen in the final shot. You'll see this "hidden card" in all of the other cels as well: click the thumbnails to see the Fly layers by themselves.


Click to open in new window