Umi and Fuu react, cut 80: 2
Source: TV
Layers: 1
Sketches: 2
Standard size

No Background

Added 5/28/2004
Updated 3/25/2013

Cut 80. Umi and Fuu, who are pressing Alcyone for the vital information, react with shocked surprise. In this dramatic rough animation sketch by sakkan Ishida, the horrified Umi steps forward and tells the struggling Alcyone to stop talking: she doesn't need to risk her life.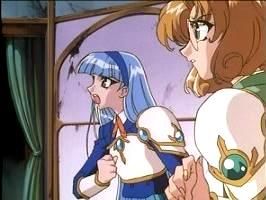 It is amazing how much energy the animator captures in a relatively few pencil strokes, making this sketch if anything, more impressive than the comparatively simpler cels that were the final product. Click the thumbnails for the two layout sketches that worked out this scene.




SENSEI CHECK!

This was one of the first rough gengas that I ever purchased (in May, 2004, at the end of Nick's great 80% off sale), and it was the first one that really hit me in the solar plexus. It taught me how effective an early sketch by a talented artist could be, as much so as the painted cel at the end of the process.

It sadly presents a difficult conservation issue, for you can see in the scan that strips of celotape were used to attach the top of this sketch to another piece of thin yellow paper with registration holes. Normally, I'd remove the tape, as the acid in the adhesive will eventually damage the paper. But the artist finished the sketch after the tape was put on, drawing part of Fuu's hair on top of it. Since the tape (a better quality "frosted" variety) is reacting to the paper more slowly than cheaper "slick" varieties, I've elected to leave it in place for now. But I have isolated the sketch in its own bag to keep it from potentially damaging others stored next to it in the archival box.


Click to open in new window