Movie Belldandy
Source: Movie
Layers: 1
No sketches available
Cel Number: A10
Oversize, 33W x 23.5H

No Background

Added 5/28/2004
Updated 4/27/2012

Ring Ring

Voice: Moshi moshi! Goddess Help Desk, Kannon desu.

Sensei: Oh, I'm sorry, I have the wrong num… Uh … who did you say you were? … and what number did you say I had??

Kannon: This is the Goddess Help Desk. You can only get us by dialing a wrong number. Congratulations, mortal. I'm Kannon, the Japanese goddess of mercy. You are now entitled to a wish.

Sensei: [ecstatic] A wish? Oh boy! I'll wish for one of those CCS OP 1 pans with Sakura in the frilly pink dress … or maybe one of those hanken-like pan cels they used in the "Kero-chan no omakase" sequence … or … or …

Kannon: [interrupting] Well … there's a catch.

Sensei: [sighs] There always is … what is it this time?

Kannon: The wish has to have something to do with a goddess.

Sensei: Um … actually ... I always have wished to have a really really nice Belldandy cel.

Kannon: A most praiseworthy request. There's one on the AnimeChaos sale page right now. Go right ahead and buy her.

Sensei: Oh, heavens! … it's priced way out of my league!

Kannon: [slyly] But if Nick knocked 80% off the price … then would it be out of your league?

Sensei: [astonished] 80% off??? But … but … that would never happen! Not in a zillion years. It would take a miracle for that to happen!

Kannon: And who in hell do you think you're talking to, ya flippin' atheist?

Sensei: .........


---

Actually this cel appears in the movie about half way through, when Celestine calls to the partly possessed goddess. She rises from the Earth and, floating between worlds, she looks around anxiously to see where he is calling from.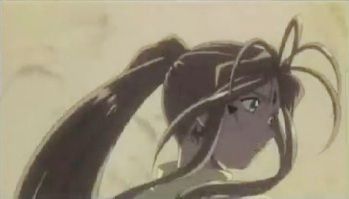 In the version available on YouTube, this image appears in Part 7 (of 15), about 5:44.

Although the phone conversation is fictional, my early urge to have even one impressive cel image of Belldandy was not. But cels from the AMG movie demanded hefty prices soon after this classic film's release, so I was reduced to looking longingly from afar.

Until this cel survived round after round of Nick's progressive inventory reduction: 20% off ... 40% ... 60% ... and, one tense night in May ... 80%. I sent this order off at the stroke of 1 AM (midnight Nick's time) with fervent prayers to the celga no kami to let me have her.

Kannon was indeed propitious, and she has been a handsomely worshiped jewel of my collection ever since.

The immediate sequence-buddy to this cel (the A11), is owned by Gabe's Ruin.