Ruka seconds the motion
Source: TV
Layers: 1
No sketches available
Cel Number: D2 END
Oversize, 38W x 42.5H

Key Cel
End Cel
No Background

Added 5/28/2004
Updated 5/8/2015

Cut 305. Ruka reacts joyfully to Papa's announcement that Miruru will become "part of the family." Sequence number: D2 END.

This oversized cel, goes with one of Miruru showing a discreetfully bashful response to the announcement. The set is missing a third layer showing Gabe reacting violently in the background, so I've imaged the Miruru and Ruka layers separately.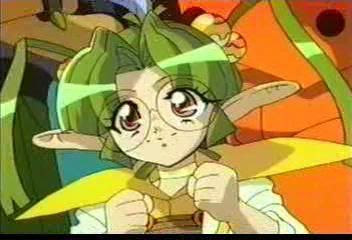 Interestingly, if you look carefully at a set of screen caps with the images of Miruru and Ruka in this cel set (see thumbnail), you'll see many differences between this image and the one actually used. Look particularly at the ears; but just about every detail, including the shadows, highlights, and eyes, is different in some way. Other cels from this part of the show were evidently redesigned in the same way, from the douga level up. Why this should be is unclear, but perhaps a shipment of cels was misplaced, and new ones had to be re-sketched and re-painted at the last moment.


Click to open in new window