"Part of the Family"
Source: TV
Layers: 2
Sketches: 2
Cel Number: C7 END, E4
Oversize, 38W x 42.5H

Key Cel
End Cel
No Background

Added 5/28/2004
Updated 5/8/2015

Cut 305. Trouble averted, Papa announces that Miruru will become "part of the family." Sequence numbers: C7 END (Miruru), E4 (mouth).

This is part of a huge pan setup including Ruka (click the thumbnail to see the complete composition), who, like Miruru, assumes that this announcement means the lucky pair are getting married at last. Since this set is missing the layer showing Gabe reacting violently in the background, and the layers were separated and portrait-sized, I've imaged them separately. Notice the cute but sharp fangs.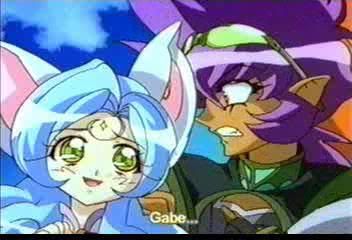 On reviewing this screen cap, I was surprised to find that this particular cel set was not actually used. Compare the right ear in the cel carefully to the screen cap; the mouth is also different from any used, and the blush and hair highlights are also quite different.

Step 21, for some reason, seems to have many cels that came on the market that don't seem to match what was finally filmed; Vapalla has also identified others. It seems as if something very odd happened during the production of this very odd episode, requiring a remake, not only of the cels but the dougas too.

This was the first Tennimon cel that I ever bought (back in May 2004, for $32 if my records are accurate). I recall that when I got it, I left it out in my office, the bag hung over the top of the big sheet of art paper that I scanned it with, for several days, amazed by how vibrant it was. So who cares if it's a test cel or not?


Click to open in new window