Photo Op
Source: TV
Layers: 3
Sketches: 3
Cel Number: A30 END, B14 E, D6E
Standard size

Key Cel
End Cel
No Background

Added 5/1/2004
Updated 4/24/2017

During "Hitorijime" (the "video" of Meilin's image song that begins the episode), Syaoran is continually trying to go off by himself, but he quickly finds himself in the thick of things. At one point he steps into one of those "three photos for a coin" booths, but an instant later Meilin is there glomping him; then Sakura and Kero step in to pose, and finally Tomoyo slips in from below, making her customary memorial videotape of the moment. Sequence numbers: A30 END (Meilin and Syaoran) B14 END (Sakura and Kero-chan) D6 END (Tomoyo).

This set came with the layers carefully separated with plastic sheets, so I've imaged them separately (first thumbnail). Interestingly, Syaoran and Meilin make a more compatible couple than usual, united by their reaction to the obsessive Tomoyo. The sketches (second fingernail) are also impressive in their detail. With this set I also got a douga plan, labeled E1 END (not imaged), for the mask that appears as a black outline in all the images from this cut (as in the screen cap below).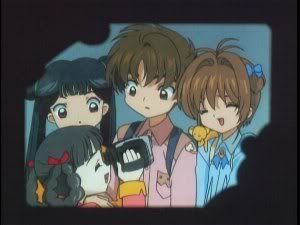 Screencap courtesy of Desertmoon.org


Click to open in new window