capturing fly A12
Source: TV
Layers: 3
No sketches available
Cel Number: A12, E12 END, F3
Standard size

No Background

Added 11/13/2003
Updated 3/23/2013

Another image from the early part of the capture, almost identical to the previous one but different in subtle details. Note especially that this image of Fly has "feathers" at the end of the right wing, while the other has only an amorphous strand of energy. Sequence Numbers: A12 (Fly), E12 END (power circles), F3 (Sakura).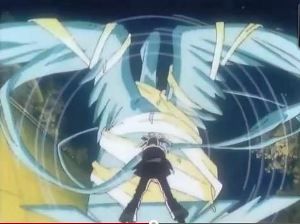 Again this F3 is one that would appear at the end of the cut rather than at this early stage.


Click to open in new window