Wild Firey
Source: TV
Layers: 1
Sketches: 1
Cel Number: C12
Standard size

Key Cel
Original Unmatching Background

Added 8/24/2003
Updated 4/17/2017

Episode: 35 (Sakura's Wonderful Christmas). Firey appears in his true winged form and starts shooting streams of fire at the two adventurers. Sequence number: C12 (key).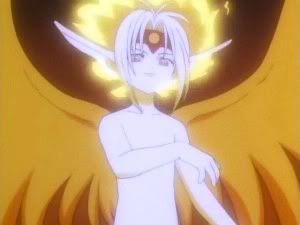 Approximate screencap courtesy of Desertmoon.org

Nice cels of Firey are rare, and this is one of the most diabolical I've seen. Graymouser's Gallery has a sinister C4 from this cut, while klet's Island of Misfit Cels features the C8 and Chibi in Wonderland has the C9 in her corridor devoted to this beautifully designed Card.




SENSEI CHECK!

This cel actually went up as part of one of my "Beer Barrel Updates," which illustrate how far one can make a couple of yen go by picking carefully. I admit, however, that this one was by far the most costly in this update, though the cost did manage to squeak in under $90 (+ commission, shipping, etc.). It really missed its special effects layer, though, which (as you can see in the screen cap above) added an aura of flame around his head. I tried my hand at painting one myself, and that helped, but it still looked amateurish.

Then an appropriately spectacular original production background (actually from Episode 14 of Bleach) came up FS from the curator of Kamidake Cel Gallery. That proved to be exactly what this cel needed, and the Card has been beaming with inner heat ever since.

Thank you Julie!


Click to open in new window