Tokyo Tower Touya: Original background
Source: TV
Layers: 3
No sketches available
Cel Number: A1, B1, C1
Standard size

Key Cel
End Cel
Book Cel
Original Matching Background

Added 8/24/2003
Updated 4/24/2017

Episode: 40 (Sakura and the Sakura in the Dream). Sakura, astonished, asks her brother what he's doing at Tokyo Tower, and he responds with his usual nonchalant "Baito" [It's my part-time job.] Sequence numbers: A1 End (Touya), B1 (Touya mouth layer), and C1 (Sakura) with original matching two-layer book production background.

Notice the way in which the surreal quality of this scene is signaled by the sharp "camera" tilt to the right … and on the wall behind Touya … aren't those … butterflies?

The watercolor background by itself is impressive (first fingernail)—far from a generic room scene, it has an angular, almost abstract art "kick" of its own.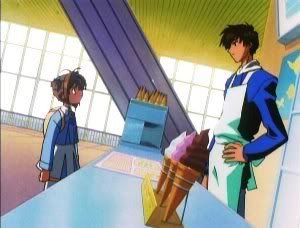 Click to open in new window