Mephisto II
Source: TV
Layers: 1
No sketches available
Cel Number: A8 B3
Standard size

Original Unmatching Background

Added 7/24/2022
Updated 7/24/2022

This nice image of Shingo's demonic mentor came in a Toei folder with a trimmed but original background. It probably is not original (given the habits of Toei's gift shop) but fits the cel nicely. Mephisto is seen here in his usual fancy European outfit complete with tuxedo, top hat, and cane. I'm not sure what is going on here, but I'd guess he's complaining that the blue stone in his hand has next-to-no magical properties.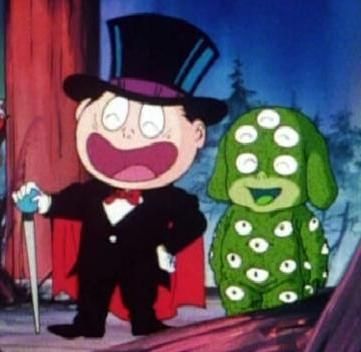 The role was voiced by Toshio Furukawa [古川 登志夫], better known as the creator of the role of Piccolo in the Dragonball Z saga. Previews of the 2023 remake say that this seiyuu will reprise the role in this new version.




SENSEI CHECK!

Mizuki chose the rich world of European ceremonial magick as the foundation for this series. In the opening moves of this plot, the legendary necromancer Dr. Faust offers to lend Shingo the use of his familiar demon, Mephistopheles. One could easily expect the plot to turn into a typical "Faustian bargain" plot with the protagonist doomed to spend eternity in Hell in return for receiving diabolical assistance during his mortal life.

But Mizuki's concept of Faustian conjuring is much like his approach to the yōkai world: while such creatures are uncanny and often dangerous, they are ultimately … well … interesting. And so Shingo's desire to dabble with wizardry would usually be tragic (at least potentially so) in European culture, but for Japanese culture this exotic body of lore is seen as funky, and so the protagonist's quest to become the messianic "Akuma-kun" is "a mighty big adventure," (as Peter Pan says about death).

Thus whimsy enters at every turn. When Faust contacts the original Mephistopheles, he learns that this baddie has developed a bad case of back trouble. So the young wonder-child has to make do with the demon's protégé, Mephisto II, who is more his size and evidently also something of a novice in occult activities.

Nevertheless, the plot relies on many details authentically drawn from European traditions about conjuring up demonic presences. Faust teaches Shingo to begin his incantations with the magical words "Elohim essaim frugativi et appelavi" [a garbled mix of Hebrew and Latin apparently meaning "O God, I implore thee.") Mizuki drew this conjuring phrase from one of the many 17th and 18th century grimoires that described how to raise and command demons. You can read one example by visiting The Grimoire Encyclopedia.

Or you could read the play Cyprian's Prayer, written in 1924 by Edmund Wilson, later to become one of America's leading literary critics. At one point the protagonist, a comic sorcerer's apprentice, reads the phrase "Elohim essaim frugativi et appelavi" from a grimoire, commenting, "That Latin is completely cockeyed!" Later in life Wilson had hoped to produce the play in New York with the renowned husband-and-wife team Hume Cronyn and Jessica Tandy in the key roles, but, alas, the project fell through and the play remains obscure even to American audiences.

In any case, thanks to Mizuki's use, "Elohim essaim frugativi et appelavi" has become current in Japanese popular culture as an icon for European-style black magic, parallel to the use of the inverted pentagram in this country, thanks to the "Church of Satan" pop culture inspired by Anton LaVey.


Click to open in new window