Shu-no-Bon
Source: TV
Layers: 1
No sketches available
Cel Number: A1
Standard size

Key Cel
No Background

Added 5/27/2022
Updated 5/31/2022

This character, 朱の盆 ["Red Plate"], is based on a minor character in Mizuki's manga. He is loosely based on a folk tradition in the Aizu region about a boogieman who appears suddenly, giving their victims a life-threatening fright. The name describes the round, flat plate-like face of the yōkai, with blood-red skin, huge eyes, and an enormous mouth ringed with teeth. In the manga, he first appears as a sumo wrester, a difficult challenge for Kitarō.




He became more prominent character in the 1985 anime series by taking the role of minion to Kitarō's regular nemesis Nurarihyon. However, his behavior is typical of minions in general: he's not very competent at carrying out orders and often betrays his good heart by showing kindness to the Kitarō-tachi (especially the mortal girl Yumeko).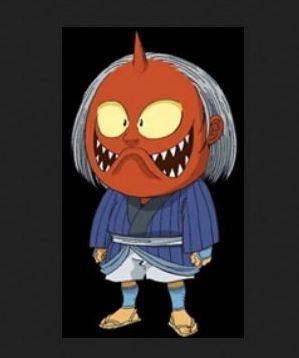 Nevertheless, his frightening appearance and wide range of attacks make him a dangerous yōkai to reckon with.