Souseiseki: "Master. . . ."
Source: TV
Layers: 1
Sketches: 1
Cel Number: A1 B3
Standard size

No Background

Added 3/18/2022
Updated 3/18/2022

Ep. 9, cut 134. With Suiseiseki's help, Jun enters the clockmaker's dream portal, where they rescue her twin sister Souseiseki. Fleeing Suigintou, the three end up on a branch of what Sui describes as the World Tree, which unifies all people's dreams. They decide to investigate the dream world of the clockmaker's comatose wife, which requires them to walk out onto a slim branch.

Sou looks at the size of the branch dubiously, uttering a cautionary "Master. . ." to Jun. The dolls can negotiate it without trouble, but in this world Jun's size and weight might make this passage dangerous.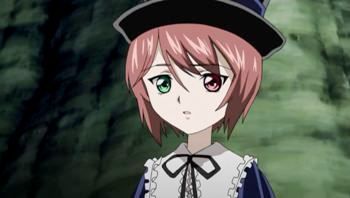 As you'll see from the surrounding items from Ep. 9 there was an issue with the layouts, which were all done on Madhouse layout blanks instead of the usual Nomad sheets. Apparently this task was contracted out by the studio, leading to some issues that needed to be resolved by episode animation director Fukuda and his supervisor Kumi Ishii. This layout, however, was a strong effort, and you can see that the portrait of Sou was the basis for the final image. I've added a closer look at this nice sketch in the thumbnail


Click to open in new window