Mikael being teased by Raphael: rough and layout
Source: TV
Layers: 1
Sketches: 3
Cel Number: A1, C1
Standard size

No Background

Added 4/13/2021

Cut 34. Irritated by Mikael's obsessive study of his angelic future, Raphael begins to pester his "student," asking him what he expects to do once he gains this status. Mikael angrily reacts, whereupon his mentor, popping out from various hiding places in their room, says, "OK, I'll give you a test." Surprised, Mikael repeats, ". . . a test?" In this cut, Raphael cooly replies from above, sliding back one of the ceiling planks, "Yeah. A test."

This rough, by episode animation director Kazumi Ikeda, combines two keyframes, showing Mikael in his start position . . .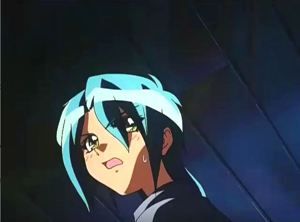 . . . and Raphael as he appears looking down from his rafter chink.




This relatively complete sketch set continues as Mikael, angered by Raphael's teasing, quickly turns around and looks up, but way too slowly as the mentor has quickly slid the aperture shut. It contained this fine rough of the full frame, with Raphael fully visible from above, plus a holograph layout (first thumb) and an art board giving directions on how the ceiling plank slide move was going to work (second thumb). The set included seven gengas, all but the first two accompanied by nearly complete shuuseis by animation director Ikeda. (Presumably the A1 and C1 gengas, being clean-ups of the rough featured above, were good enough as is.)

All of these sketches were very faint, as usual with Kyoto Animation artists, and so they have been substantially darkened to make them easily viewable.


Click to open in new window