Erimaki Tokage aka "Osgood"
Source: TV
Layers: 1
No sketches available
Cel Number: A1
Standard size

Original Unmatching Background

Added 6/8/2020

This is a nice full-face portrait of this minor character, based on a frill-necked lizard native to Australia. He gets a fair amount of screen time in the series, mostly by freaking out when Sandy comes through to Koalawalla Land. Simply named "Erimaki Tokage" (Japanese for "frill-necked lizard"), he was renamed "Osgood" in the Saban dub shown on North American cable TV.

The cel might have been set aside for use in one of the framed souvenir cels sold by Nippon to fans. It came with a trimmed but nice background that is probably unmatching, but happily it was never physically attached to it, so both the cel and bg are in primo condition despite their age.




SENSEI CHECK!

Wikipedia Japan adds that he became known for his repeated catch phrase "俺、主役!" [Ore, shuyaku!] or "Hey! I'm the main character here!" -- often before dashing off in a hurry. He functions (this reference adds) as a recognizable type character within Japan's kyogen (crazy words) tradition of humor.

The prominence of this character also reflects a phenomenally successful advertising campaign, in which a cartoon version of the lizard became the mascot for the second-generation Mitsubishi Mirage, a car that became emblematic for the 1983-87 era. The car-makers' commercials often featured the "Erimaki Mirage" (a cartoon lizard creation similar to the one in this anime) dashing off at full speed just like you could do if you bought a car like this. There was even a popular garage kit of this well-liked lizard mascot perched on top of a miniature model of the auto.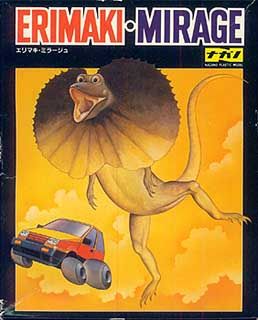 As a result, a modest "Erimaki Tokage" fad began about the same time as the "Koalamania" craze, and an international exotic reptile trade between Australia and Japan sprang up for Mirage owners who wanted to adopt one of these emblematic lizards as a pet.

It's not clear from my research, which relies on Google's translate engine, but I suspect that the anime character's tag line "Ore, shuyaku!" before dashing off at top speed just might be an allusion to the familiar commercial and the Mirage's current position at the top of the auto market at the time. "Hey, I'm Number One!" might be a better translation, though "shuyaku" usually means a lead character or role in a show.


Click to open in new window