Hige with the key to the cell
Source: TV
Layers: 1
Sketches: 2
Cel Number: B5
Standard size

No Background

Added 6/5/2020
Updated 8/11/2020

Episode 2 (Toboe, Who Doesn't Howl), cut 267. Hige, the street-smart brown wolf, helps Kiba blend in with the populace, and they allow themselves to be arrested, knowing that the jail is next to the laboratory holding Chiza, the mysterious female wolf/woman. Kiba senses something happening and instinctively moves to grapple with the bars of his cell. But his cleverer companion smiles and pulls out a skeleton key that can unlock the door.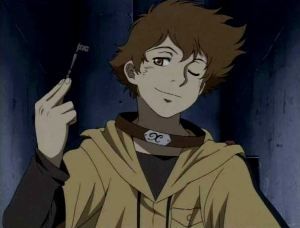 The seller gave no context for this singleton sketch (with its shuusei, added in the thumbnail), but the image turned out to be a somewhat iconic image of the opportunist Hige, and I found a number of scans of this image already posted on websites by fans of this series. Some hints from fellow collectors ran it down in short order, but in fact when I received the lot, I found the episode and cut number jotted on the top margin of the shuusei.




SENSEI CHECK!

The animation director of this episode was Takahiro Komori [小森 高博], a prominent BONES artist and now a member of its Board of Directors. The shuusei in the thumbnail is likely this animator's work. Previously, the artist had served as episode animation director for the Escaflowne TV series (1996) and for Cowboy Bebop (1998-99), and did character design for BONES's 2001 break-out success Angelic Layer. Later he became well-known as character designer and senior animation director for Scrapped Princess and Darker than Black, and more recently he was chief animation director for Snow White with the Red Hair (2016) and for My Hero Academia (2017-20).

To get a sense of the extensive polishing Komori gave this keyframe, take a close look at the shuusei (thumbnail) or watch this flicker of the two sketches. Particularly see how the careful work on Hige's open eye and smirk made him look even more the sly rogue.





Click to open in new window