Suiginou kills Shinku! Rough shuusei
Source: TV
Layers: 1
Sketches: 1
Cel Number: A1
Standard size

No Background

Added 6/5/2020
Updated 7/18/2020

In a subsequent auction, I was able to win the rough shuusei corresponding to the previous image. It is in the vigorous style of Chief Animation Director Kumi Ishii and makes a revealing comparison with Kimiko Tamai's very fine rough, a scan of which is in the second thumb of the previous item. As I'd suggested before, Tamai's image is dramatic to the point that it goes "over the top," making her anger grotesque rather than scary. So here Sakkan Ishii walks back Suigintou's anger to a metallic impersonality that is just as dramatic and twice as scary.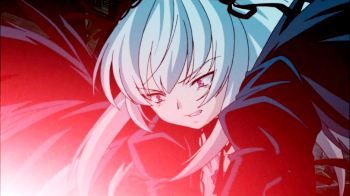 Suigintou isn't trying to show how frustrated she is; she just wants to kill Shinku. And now she's got her helpless where she wants her, and now she's killed her. Mission accomplished.

Errrr ... not so fast! ... move right on to the next item.