Beezle dancing on a hot rock
Source: Movie
Layers: 1
Sketches: 1
Cel Number: A24
Oversize, 14W x 9H

No Background

Added 6/4/2020
Updated 4/11/2021

Scene 2, cut 513. Lady Zephyrus does get Beezle (Akuma-kun or "Little Devil" in the original) to the time and place where Unico and Katy/Chao are battling the Baron de Ghost (Baron Danshaku). That baddie now begins to display his own diabolical powers, making fountains of fiery lava erupt from the earth. Here Beezle is dancing around uncomfortably on top of a hot rock that's been cast up by the magma.

This image appears at about 1:14:49 of the YouTube version of the movie.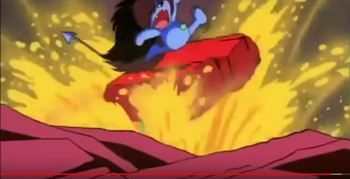 This scene reveals the astonishingly complex way in which Madhouse animators dealt with fluids, whether water, blood, or (in this case) molten lava. All the detail that you see is painted on a single flat cel sheet, which is liberally airbrushed on both the front and back. You can get a clearer idea of how this image was created by looking at the colorful and well-drawn douga that came with this cel. It is unmatching (showing the next frame, A25) but the fiery fountains and scattering droplets are expertly and liberally realized.


Click to open in new window