Ep. 68: Flowers in the snow
Source: TV
Layers: 1
Sketches: 2
Cel Number: A1 END
Standard size

Key Cel
End Cel
Original Matching Background

Added 3/20/2020
Updated 3/20/2020

Cut 236. Indeed, the next cut shows places where the snow has begun to melt. In the dampened soil, green growth is springing up, and the first spring flowers are bursting into bloom.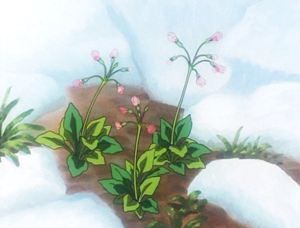 The setup has retained its A1 END layer that gives the three plants in the middle of the thawed space their extra presence. While the B-layers that would have shown the flower stalks rising and blooming have been, sadly, lost, this is still a lovely image of the way a seemingly ice-bound world quickly melts into new life. It is all the more precious for being the sequence-mate to the previous background, which is one of my collection's great treasures.

The thumbnails add the layout (showing how the flowering stalks rise and bloom during the cut) and the A1 END douga. Move ahead one step for a closer look at the background itself.


Click to open in new window