Nori adopts Hina-ichigo
Source: TV
Layers: 1
Sketches: 3
Cel Number: A1 B1 D2
Standard size

No Background

Added 6/29/2019
Updated 9/30/2019

After Shinku concludes the Alice Game battle with Hina in her magical world, she returns home through the magical mirror in the closet, where Nori and Jun are waiting anxiously. Jun is concerned (why?) that Shinku has carried out a dangerous mission, but Nori finds Hina totally adorable and adopts her on the spot. (Not literally, for she does not become the doll's medium.) Jun, however, is perplexed that there are now two dolls living in his house.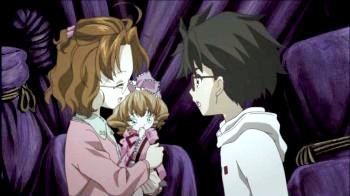 This incomplete set retained the genga showing Nori carrying her new friend past Jun, along with several others working out how Jun reacts, then turns to follow Nori as she walks behind him, in so doing turning his back on the viewer.

The most interesting sketches were what appear to be layout corrections, done on studio layout paper but with considerably more care and quality than most Nomad layouts. Two separate correction sketches, one of Nori and Hina, the other of Jun, which match the genga are added in the thumbs. The careful attention to details suggests that they were the work of Kimiko Tamai, animation director for this episode. (See next item for more on this very fine artist.)


Click to open in new window