Ep. 4: Tohru concerned about Kagura: A1
Source: TV
Layers: 1
Sketches: 3
Cel Number: A1, A?
Standard size

No Background

Added 6/28/2019

Episode 4, cut 139. The Sohma house is disrupted again when Kagura appears looking for Kyo, whom she considers her intended spouse. Her affection alternates wildly with moments of jealousy, until in a series of well-meaning actions the new Sohma destroys the kitchen and laundry. Kyo retires to the roof, Kagura gets to work cleaning up the mess she's created, and the others order out for dinner. But Tohru, who sympathizes with Kagura's situation, looks up from her take-away dinner and turns to the kitchen with a look of concern on her face.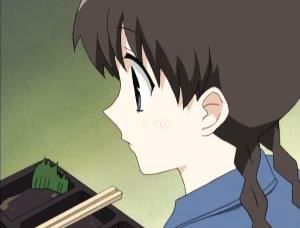 SENSEI CHECK!

The animation director for Episode 4 was Sawako Yamamoto [山本佐和子], her only assignment for this series. Her experience began as a key animator during the mid-1980s in series like Dream Hunter Rem and Dirty Pair. She gradually worked up to episode animation direction, notably on the Saiyuki Reload series (7 episodes). Recently her work has grown to character design and chief animation direction, mainly in erotic OVAs.




Caution! Fussy Notes

This unusually full set preserved more of the stages of production than most Furuba sketch packs. It included a set of genzu on pink paper, likely from the director telling the animation director how the cut should go. Two roughs, likely by Yamamoto, led to the two gengas, at which point an intermediate keyframe (or planned inbetweener), labeled Aア( or "A.a"), was added. There were two sets of shuusei gengas (not imaged), all partials, one on green paper (and so likely Yamamoto's work) and one on yellow paper. These (which include one of the planned inbetweener) may be the work of senior animation director Akemi Hayashi, who seems to have routinely polished the work of his subordinate artists.

Featured here is Yamamoto's rough, with the resulting genga in the first thumb. The planned inbetweener, showing her head starting to come around, is added in the second thumb.


Click to open in new window