Hans gets ready for a mighty whack
Source: Movie
Layers: 1
No sketches available
Cel Number: B65, B66, B67
Standard size

No Background

Added 6/27/2019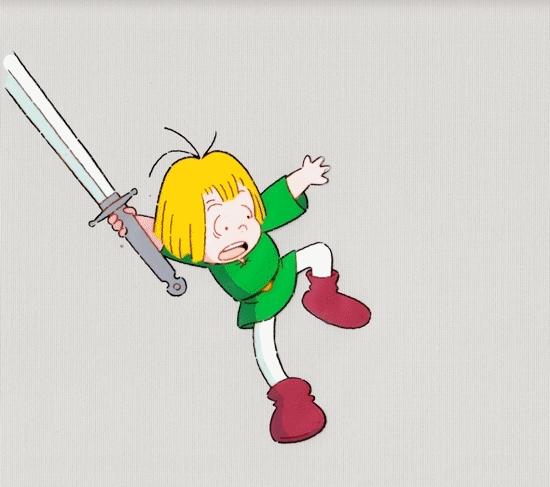 When Hans and Lulu, now joined by Princess Roland, arrive at the Witch's domain, they are surrounded by hundreds of the robotic minions that the sorceress has created. A giant robot grabs the Princess, and, in a long cut, Hans runs up the side of a steep rock pillar and whacks the metal legs of the minion. Comically, this first makes the sword vibrate, and when Hans recovers from this shock, he nearly slips off the rock. But he alertly catches himself and prepares to give the enemy a much more effective whack on the metal legs.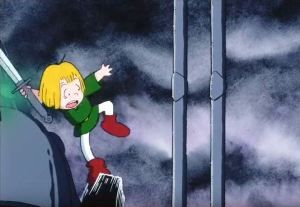 This selection gave me three adjacent frames from this cut, B65, B66, and B67, all labeled "36" on the top of the cel. (Cut 36 of the scene they're in, I assume.) They appear at about 37:42 of the YouTube version. In context, they ran at top speed, but I've given the first of these a little pause so it can register with viewers, then used a quick fade to buffer the loop back through the three. Still scans of the first and third of these are added in the thumbs.


Click to open in new window