Blinky conforting Sandy
Source: TV
Layers: 1
No sketches available
Cel Number: A10
Standard size

Original Unmatching Background

Added 4/22/2019
Updated 10/1/2019

Episode 9, cuts 137, 139 according to notations on the top of the cel. If this is accurate, then the original context is in the episode titled わたしは美人 (Watashi wa bijin, "I'm Beautiful"), which focuses on Sandy's understandable desire to be seen as pretty. Blinky takes a similar pose in the early middle of this episode, trying to cheer the girl up and convince her that she already is pretty, at least to a koala. A quick review of this scene did not turn up this pose, but the screen cap below shows that Blinky (sitting on a shelf above Sandy's bed) does appear in similar perspective. This particular frame might have been edited out during production, or trimmed out by Saban when adapting the episode for dubbing.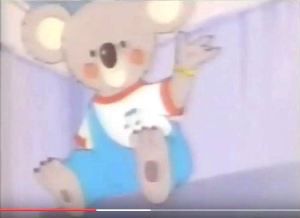 This cel was sold by Nippon Animation, evidently for the koalamaniacs who celebrated the arrival of these creatures in Japan. It consisted of an original background (non-matching if the notation on the top is accurate), attached to the cel with cheap adhesive tape and then clamped into a yellow paper frame with Nippon Animations logo in Japanese and English on front.

When I obtained this item with one like it (next item), it smelled strongly of mildew, thanks to careless storage. However, the cel was in fine shape (though needing a wash in mild soap to get off decades of dust) and not badly stuck to the background. With careful work I was able to deconstruct the "frame" and air out the contents.


Click to open in new window