Piglet Kagura karate-chops Kyo: A1
Source: TV
Layers: 1
Sketches: 3
Cel Number: A1
Standard size

No Background

Added 4/22/2019

Ep. 4, cut 236. Hearing from Tohru how much she cherishes her relationship with Kyo, Kagura (still in her zodiac animal form) flies into a jealous rage and gives her unlucky beloved one a violent karate kick to the jaw. In the opening frames, we see her in the distance, slowly rising above the back of Kyo's head, a look of smoldering anger in her face.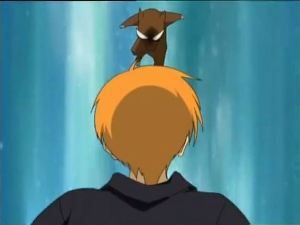 I've featured the layout here, as it gives the complete set-up, but notice how awkward Kagura's pose is here. The animation director (Sawako Yamamoto, see below) chose instead to use a simpler image of the piglet braced for action. See the first thumb for Yamamoto's rough and the second for the resulting genga.




SENSEI CHECK!

The animation director for Episode 4 was Sawako Yamamoto [山本佐和子], her only assignment for this series. Her experience began as a key animator during the mid-1980s in series like Dream Hunter Rem and Dirty Pair. She gradually worked up to episode animation direction, notably In the Saiyuki Reload series (7 episodes). Recently her work has grown to character design and chief animation direction, mainly in erotic OVAs.


Click to open in new window