Piglet Kagura karate-chops Kyo: A4
Source: TV
Layers: 1
Sketches: 3
Cel Number: A4, A3.5
Standard size

No Background

Added 4/22/2019

Kagura's martial arts move was consciously kept simple and "cartoonish" so that this would be seen as a comic moment rather than a potentially damaging physical attack. And the idea that the consummate martial arts trainee Kyo would get absolutely wasted by a chibi piglet is after all intended to be comic rather than realistic. So in a series of choppy images, Kyo shows Kagura push forward with her left leg (on our right), then swing her right leg out and around, whacking Kyo on the chin with the tip of her uncloven hoof.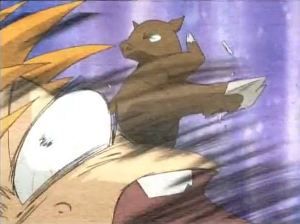 ]

Again, I've featured Yamamoto's effective rough, with the genga in the first thumb. The preceding keyframe, a planned in-betweener, shows the beginning of Kagura's move with her foot represented only as a blur surrounded by action lines.


Click to open in new window