Ep.6: Tohru hears Arisa and Saki plan to visit the Sohmas
Source: TV
Layers: 1
Sketches: 3
Cel Number: A1 END
Standard size

No Background

Added 4/22/2019
Updated 6/28/2019

Ep. 6 [Invincible Friendship], cut 24. This comes from the opening scene, in which Tohru finally tells her two best friends that she has moved in with Kyo and Yuki. They initially express shock over the danger their friend faces by living in a household of males, but soon determine that the right thing to do is pay the Sohmas a visit to see what's going on. A montage of images shows Tohru's delight over the idea.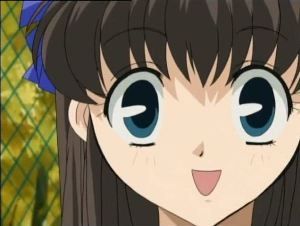 The montage showed Tohru's face with the same expression jumping closer to the viewer in a series of steps. This one is the third of these, showing a little of the school's chain-link fence behind her. I've featured the genga, but added the layout (showing the background) in the first thumb. The second adds a partial post-genga shuusei, showing the animation director polishing those crucial eyes.




SENSEI CHECK!

Episode animation direction was credited to "Tateru Namikaze" (波風立流), but Japanside websites indicate that this is a pseudonym for an experienced and wide-ranging animator, Takashi Sokabe (曽我部 孝). Sokabe began in the 1980s with the classic anime series Urusei Yatsura (gengas) and contributed to the Lupin franchise, to Saint Seiya (gengas) and to Utena (storyboards). Graduating to the episode animation directing role in 2000 with Boys be Boys Sokabe has continued to work in this capacity (both in his own name and under various pseudonyms) in a number of high-visibility series, including Cromartie High School, Getbackers, Maria-sama Watches over Us (both seasons), Vandread, Hakaba Kitaro, Yu-Gi-Oh, and Fate / stay night . Sokabe also collaborated with Director Suzuki on Episode 2 of this series.


Click to open in new window