Weeping, running Karada: gengas
Source: TV
Layers: 1
Sketches: 3
Cel Number: A1, A2, A5
Standard size

No Background

Added 4/22/2019

The cut was built around six gengas, showing Karada's head placed quite differently in the frame as she pounds ahead, first on one leg and then on the other. These were very stylishly done, but some are quite similar to others, and one is places nearly out of the frame to the right. So I have featured the A1 keyframe above and included two other nice gengas (the A2 and the A5) in the thumbs.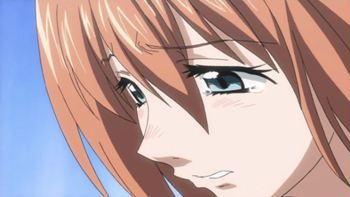 Take a step ahead and see the dougas reanimated in a simple way to appreciate the clean, fluid way in which the studio realized this moment. No unmoving A1 image tarted up with pans, swooshies, and moving background here!


Click to open in new window