Weeping, running Karada: reanimation
Source: TV
Layers: 1
Sketches: 11
Cel Number: A1-A11 END
Standard size

No Background

Added 4/22/2019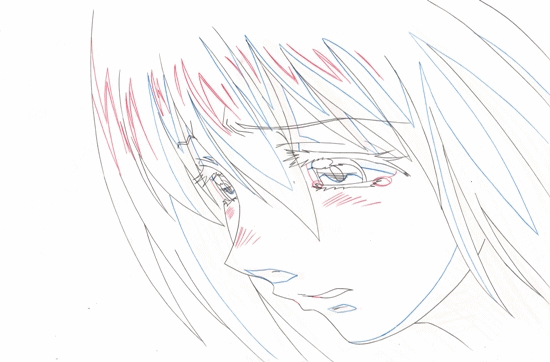 The studio captured the motion in this cut using just eleven dougas. The timing sheet was a preliminary one, giving only the genga numbers and a series of dashes representing where inbetweeners would fall. With careful attention to both this and to the sequence numbers on the dougas, I was able to figure out the timing and reflect it in the reanimation above.

The loop begins with the A1 key, followed by two inbetweeners, A2 and A3, that come in at the 12/sec rate. The A2 key (numbered A4 on the douga) is a little slower to follow (8/sec), but the inbetweener, A5, appears immediately (24/sec) after. Then the A3 key (numbered A6) and the A4 key (A7) arrive, followed again with two inbetweeners, A8 and A9, all at the 12/sec. rate. The last two keys, A5 and A6 (A10 and A10) then come in at the slower (8/sec) rate. The animation loops back to A1 (at the quicker 12/sec rate) and repeats over and over for six and a half seconds, or until the eyecatch breaks in.

All that sounds jumpy to me, and I had my doubts whether I was reading the timing sheet right. But the resulting reanimation seems to run smoothly and matches the look of the cut in the final version. So the constantly changing timing, with frames falling in at 1/8, 1/12, and 1/24 second intervals shows a keen eye for the way in which the human body acts when running quickly, with the head jumping forward as the foot pushes ahead, then coasting a little until the other foot takes hold and propels the body further on.