Tetsu: "I love you!"
Source: TV
Layers: 1
Sketches: 1
Cel Number: A24 END
Standard size

No Background

Added 4/22/2019

Cut 180. As before in Episode 10, the perspective suddenly shifts to a distant view of the two characters from the side. And in that less intimate setting, Tetsu gets out the fatal declaration. The "camera" shifts back to Tetsu, the first image reusing the end keyframe from Cut 178. Then, with the shy irritation that guys always feel at such moments, he blushes and turns his head to the side and looks down.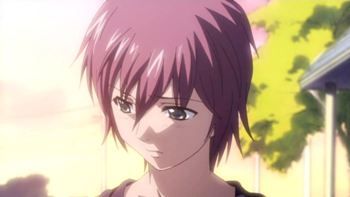 I've featured here the A24 END douga. But move ahead an item to see the whole cut reanimated in a simple way.