Shōko watches Kotomi board the train
Source: TV
Layers: 1
Sketches: 1
Cel Number: A1/B1
Standard size

No Background

Added 4/22/2019

Ep. 12, cut 279. In this simple cut, we see the train doors open, and Kotomi steps forward to board.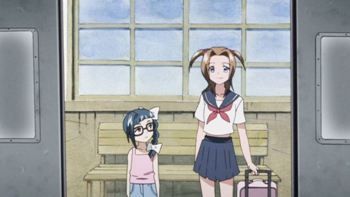 This was, as usual for AnH, a rather fat sketch set, resulting in 26 dougas on six layers: the train doors, Shōko, Kotomi, mouth layers for each, and a partial for the rolling suitcase Kotomi has. None of these were very interesting, so I've limited myself to the A1/B1 genga showing the two characters (and the suitcase).

An odd detail is that while Shōko and the train doors were all animated on standard "shoebox" sheets (8.25 x 11.25), Kotomi's dougas were executed on sheets using the older douga size of 9.5 x 10.5.