Karada vacuuming: Reanimation
Source: TV
Layers: 2
Sketches: 12
Cel Number: A1-A10, B1, B6
Standard size

No Background

Added 4/22/2019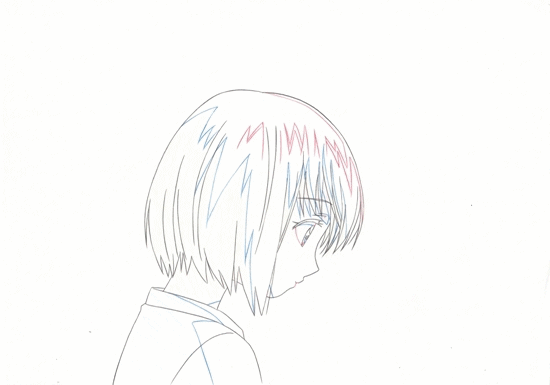 The set came with a full set of dougas, A1-A10 for Karada's head and body and B1-B6 for two sets of mouth layers. The B1-B3 douga went with the midpoint of Karada's turn toward Shōko (A6: "Yes?") and the B4-B6 went at the end (A10 END: "What is it?") Not having the timing sheet, I used the DVD for reference, which shows Karada turning at once toward her friend, pausing briefly at A6, then a little longer at A10. Rather than try to replicate the dialog, I pasted the B1 mouth layer on the A6 douga and the B6 mouth layer on the A10 (as in the genga image). Similar cuts run "on threes" (12/sec.) so I used this rate for my reanimation. A quick fade buffers the loop back to A1.

It is striking to see how skillful the animation is, with the turn gracefully and naturalistically posed, starting with a profile but ending with a three-quarters facial presentation instead of the expected full-forward position. And yet it's nothing special, just a short "Yes? What is it?" moment.