Shōko talking to Kotomi: A3
Source: TV
Layers: 1
Sketches: 3
Cel Number: A3
Standard size

No Background

Added 4/22/2019
Updated 4/22/2019

Still, the strange woman continues, in a relaxed, familiar way, "This is where I was born." That odd comment makes the "little girl" momentarily curious.

The genga, featured above, is a strong piece of work, good enough for most studios. Interestingly, it drew shuusei sketches from both episode animation director Kinoshita and from her supervisor, Ikuko Itou. These are included in the two thumbs (with Itou's distinctive "T⅔" label. Again, it's interesting to flicker the genga version of this image with the douga to see the impact of these changes.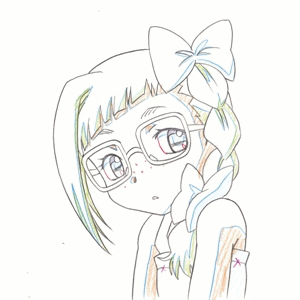 Nothing dramatic, but nearly all the image benefited from the dual effort, with Shōko's hair gaining more texture (Kinoshita) and her suddenly curious eyes also gaining depth (Itou). Keep in mind that in the final footage much of the "little girl's" figure was hidden by the B1 image of Kotomi layered on top of it.


Click to open in new window