Vampire Hunter D: Bloodlust
Source: Movie
Layers: 1
Sketches: 2
Cel Number: C11/C96
Oversize, 13.75W x 9.25H

No Background

Added 2/20/2019
Updated 12/12/2019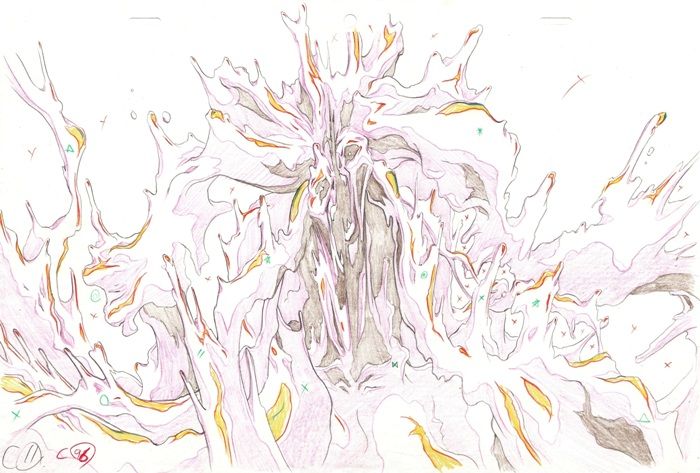 This dramatic sketch shows the villainous Camilla/Carmilla in a crucial scene close to the end of the film. Prevented from fully reincarnating her withered corpse, her body seemingly liquefies, turning into streams of living blood that form arms, tentacles and locks of hair attached to her skull. She attacks D, who slices her head in two with his sword. Carmilla then explodes into a spray of red liquid.

It came with another sketch (see thumbnail) showing the beginning of this cut, with Carmilla still in her monstrous form, beginning her move toward D. Cels of her lunging at D are owned by The Goddess of Namek's Cel Gallery, and by BlueBlade Anime Art (the C61). Here, though, you can see her body visibly split diagonally, while the bloody contents of her monstrous body swirl and splatter over the entire face of the sheet.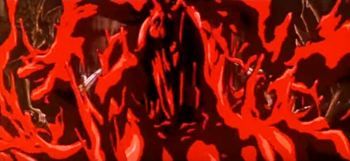 [The screen cap is approximate, as Madhouse ran this scene at the higher speed of 24 images per second.]

After nearly two decades of collecting, my tendency to indulge in impulse buying, especially for project that I don't already collect, has mostly been suppressed. When I saw this image on a dealer's site, however, I was so amazed by the dynamic quality of the image that I had to have it. Madhouse excelled in animating fluids, as seen in many of the gengas in my CCS collection, notably the Ep. 1 "liquification" of The Fly into its Card form, and Madoushi dropping the Water Bomb on Sakura in Movie 1.




SENSEI CHECK!

Vampire Hunter D: Bloodlust was a 1997-2000 Madhouse project, originally produced for an American theatrical release. While the animation was done in Japan, the post-production work took place in California, with an English-language soundtrack actually completed a year before the film was released. When first shown in theatres in Japan, the English dub was used, with Japanese subtitles. However, despite extensive pre-release promotion at anime cons and film festivals, the American release was aired in only 12 theaters.

The director was Yoshiaki Kawajiri, most noted for Wicked City (1987) and Ninja Scroll (1993); he also did a segment of Animatrix (2003), the anime tribute to The Matrix trilogy. Character design was by the veteran animator Yoshitaka Amano [天野 喜孝 ], creator of Speed Racer and Gatchaman. Animation direction was credited to Yutaka Minowa [箕輪 豊], who had worked with Kawajiri on Ninja Scroll and Animatrix, along with Hiroshi Hamasaki [浜崎 博嗣] and Hisashi Abe [阿部 恒]. Of these two, Abe was the more prominent, being chief animation director of Cardcaptor Sakura The Movie 2: The Sealed Card, Chobits, Devil May Cry, and Gunslinger Girl, among others.




Caution! Fussy Notes

The sketches were sold as gengas, not dougas, and after comparing them with other sketches that I've obtained from the CCS movies (also produced by Madhouse), I agree. All my oversized CCS film dougas bear the sequence number in the upper right corner, while the notations on these are squeezed into the lower left corner. While some pan dougas fit the sequence number onto the lower right corner, I've never seen a Madhouse douga that used the left side for this purpose, upper or lower corner.

The featured sketch had the notation C11 written in the lower left corner, with C96 written after it in red pencil. The first of these must be the keyframe (or genga) number, and the second number in red pencil must be the corresponding douga sequence number. The other sketch also has notations in the lower left, the first being a hiragana あ in a triangle. Madhouse used hiragana or katakana letters plus the triangle to signal planned inbetweeners. This is followed by C51 B39 in red pencil. These also must be the douga numbers, added later for reference.


Click to open in new window