5. Haruhi grabs the curse doll Beelzenef: 1
Source: TV
Layers: 1
Sketches: 3
Cel Number: A1
Standard size

No Background

Added 1/26/2019
Updated 1/28/2019

Episode 5, cut 216. Exasperated by the antics of the Twins, who are pretending to fight with each other, Haruhi grabs the curse doll that Kaoru has gotten from Nekozawa, the eerie president of the school's Black Magic Club.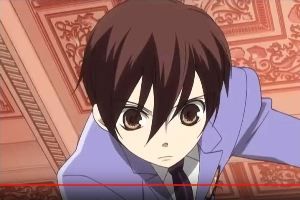 Featured above is a very fine, polished sketch, first done in very faint graphite strokes, then worked up incisively in darker pencil. Some of the fainter sketch has been partially erased, while other bits are still visible along or under the darker black strokes. It is already a very fine portrait of Haruki, made the more dramatic by the unstable pose she takes, seemingly off balance, looking right, leaning left. I believe this to be the work of Yuka Kudo, the episode animation director, one of several very distinguished artists on the Ouran production team.




SENSEI CHECK!

A yellow hand puppet, Beelzenef is Nekosawa's "comfort animal" similar to Honey's Usa-chan, and he is never seen without it. But to promote his Black Magic Club, he sells plushie versions of the puppet that are colored a sinister black. They allegedly work something like the infamous Death Note book: if you write someone's name on the back of one, then that person will soon be visited by dire fortune. Kaoru has just pretended to write Hikaru's name on the back of this one, explaining Haruhi's dramatic reaction.




Caution! Fussy Notes

Ah, if you've descended this far, you probably noticed that the featured sketch doesn't look like the screen cap. There's a story behind this, and while this set has been pilfered like the rest, enough remains to show what happened.

If you visit the thumbnails below, you can view the "1" layout, which shows a pose like the sketch above: Haruhi bent over, looking to your right, shoulders tilting sharply up on the right. Then look at the second thumb: Haruhi is looking straight ahead and while her right arm (on our left) is stretched out to grab the doll from Kaoru, her shoulders are level. See the faint line that this animator drew to show where this part of body would be behind the head.

In fact, someone intervened at this point and changed the animation. If I'm right in saying that the very fine sketch above is the work of episode animation director Kudo, then the only person who would rank above him on this team would be the Chief Animation Director, Kumiko Takahashi.

And this guess is supported by some of the evidence that I've collected from her earlier major project, Cardcaptor Sakura. This artist did elegant, carefully finished work in post-genga shuuseis, but the roughs, both in autograph and in photocopies surviving with backgrounds, are quite often rough-edged in exactly the same way. See this rough from Ep. 69 (an episode Takahashi did) or this sketch of Syaoran about to make a dramatic announcement of his own.


Click to open in new window