18. Honey eating strawberry shortcake
Source: TV
Layers: 1
Sketches: 3
Cel Number: C1, C6, A1
Standard size

No Background

Added 1/25/2019
Updated 1/26/2019

Ep. 18 ["Chika's "Down with Honey" Declaration!" "Chika-kun no Hanī Datō Sengen" (チカ君のハニー打倒宣言)], cut 83. The episode deals with a confrontation between Honey and his younger brother Chika, who is captain of the Ouran Karate Club. Chika has adopted the hyper-masculine image that goes with this position, which includes strictly avoiding sweet, fattening desserts. But Honey, despite his love for strawberry shortcake, is actually a much more proficient martial arts fighter than his younger brother. Here he is enjoying his treat, as his brother watches in despair.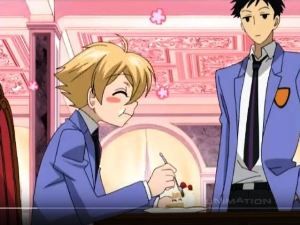 I've featured here the rough of the C6 keyframe, likely by the episode's senior animation director, Yoshiyuki Kodaira, it providing fuller treatment of the setting in which Honey is having his snack. The rough of the C1 key is added in the first thumb, and the second adds the A1 tome image of Mori who stands beside the table impassively watching Honey eat. Move ahead to see the keyframes reanimated in a simple way.




SENSEI CHECK!

Director: Yuu Nobuta [信田 ユウ]
Animation Director: Yoshiyuki Kodaira [小平 佳幸] (senior) and Kazumi Inadome [稲留 和美] (asst.)

Director Nobuta had previously handled Ep. 10 of this series. Also an animator, he had served as Chief Animation Director for Girls Bravo (2004) and did character design and chief animation direction for A Good Librarian Like a Good Shepherd (2014). He also did episode direction for a number of darker, action-based series such as Speed Grapher.

Animation Director Kodaira had previously worked as key animator for Vision of Escaflowne, You're Under Arrest,(1996) and CLAMP School Detectives(1997) and his move to BONES gave him a chance to move up to episode animation directing, first for RahXephon, then for Scrapped Princess. He also directed Ouran's Ep. 24 and contributed key animation for three other episodes. Since then, Kodaira has been a regular episode animation director for series such as Darker than Black, Soul Eater, Star Driver, Captain Earth, and My Hero Academia. His assistant, Kazumi Inadome, also worked on many of the same series, often as episode animation director, and received credit as one of the three chief animation directors for the 2013 futuristic detective series Un-Go.


Click to open in new window