4. Honey with Usa-chan
Source: TV
Layers: 1
Sketches: 2
Cel Number: A1 END
Standard size

No Background

Added 1/24/2019
Updated 1/26/2019

Ep. 4 ["Attack of the Lady Manager!" Joshi Manējā Shūrai (女子マネージャー襲来)], cut 95. The episode concerns the intrusion of Renge Hoshakuji, an over-the-top female "guest" who quickly declares herself Kyoko's fiancée and the new manager of the Host Club. Her flamboyance provokes puzzled reactions from the members; this tome image of Honey is one of the best.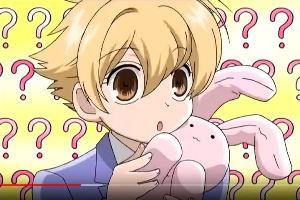 This sketch set consisted only of the fine sketch above and a copy layout. The featured sketch, though very slightly incomplete on the left side, is a pre-genga rough, probably by episode animation director Eiko Seito. Notice that Usa-chan's ears were originally drawn in a different pose, which was erased and corrected by the artist. Also that Honey's hand was first roughed in using a broad graphite point, then refined with a finer point. Also, the hair strands over Honey's right eye (our left) were changed at a later stage, as you can see from the screen cap.

The copy layout (thumbnail) has been thoroughly worked over in graphite and colored pencil by another animator. The question marks in the background, for instance are holograph additions to the photocopy, as are the shadows in blue colored pencil.




SENSEI CHECK!

Director: Tamaki Nakatsu [中津 環]
Animation Director: Eiko Saito [斉藤英子] (transliterated on the ANN Encyclopedia site as "Hideko" Saito; Japanside websites confirm that "Hideko" is the same animator as "Eiko" Saito.)

This was director Nakatsu's sole episode directing assignment for this series, but he served in the same capacity for other series, including Martian Successor Nadesiko, A Certain Magical Index, A Certain Scientific Railgun, and Fullmetal Alchemist (4 episodes).

Saito directed animation for this episode and three others (11, 19, and 25), and also worked as assistant animation director for the concluding episode (26). He also did key animation for this and four other episodes, making him a central creator of this show.

Beginning as an inbetweener in the early 1960s, working for Toei's landmark Alakazam the Great and many other projects, he worked up to a key animator by the 90s. His credits on this front include Revolutionary Girl Utena, Macross, Pokemon, Inuyasha, and Tenshi ni Narumon. One of the original team of artists to move to BONES, he did key animation for Wolf's Rain and Eureka Seven, and then moved up to episode animation director with Fullmetal Alchemist (plus gengas for 16 more episodes of this classic series).

Ouran was his second assignment as episode animation director, and he has continued to serve at this rank for several series since then, including Soul Eater (2008), Darker than Black: Gemini of the Meteor (2009), Eureka Seven AO (2012), Captain Earth (2014), and Blood Blockade Battlefront (2015).


Click to open in new window