13. Honey in Wonderland: A1
Source: TV
Layers: 1
Sketches: 3
Cel Number: A1, B3, C1
Standard size

No Background

Added 12/31/2018
Updated 1/26/2019

Episode 13: [Haruhi in Wonderland Fushigi no kuni no Haruhi (不思議の国のハルヒ)], cut 206.. In a common trope in shoujo anime, Haruhi has a vivid dream based on Lewis Carroll's Alice in Wonderland that explores her inner doubts about the Host Club. She encounters the other club members, all dressed as familiar characters from this children's book (which became extremely popular in Japan during the late 20th century due to a series of excellent translations). In this scene, a variation of the famous tea party scene, Honey is portraying the role of the March Hare, commenting ironically on the answers Haruhi is giving to the increasingly uncomfortable questions the Mad Hatter (Tamaki) is posing.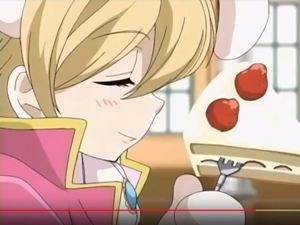 One notes that the "March Hare" has white ears more typical of Carroll's White Rabbit than of the brown-eared hare at the tea party. And Usagi/Honey is all the while gesticulating with a fork holding a huge piece of strawberry shortcake, one of this character's favorite snacks. Featured above is the A1 rough, likely executed by the episode's animation director, Ayumi Kurashima. The thumbs add one of the first-level layouts that came with this sketch set (pilfered, as often happens, of its gengas and dougas). The second thumb adds a partial C2 rough, scanned against the layout for context, showing how far the shortcake swings as Honey waves it during his dialog.




SENSEI CHECK!

Ayumi Kurashima [倉島 亜由美] was also credited for designing the "Wonderland" costumes that all the characters wear in this episode, as well as for key animation of some cuts. A prolific key animator, this artist had previously worked on the classic Ah My Goddess! OAV (gengas), and on a number of important BONES projects, including Angelic Layer, Scrapped Princess (gengas), Wolf's Rain, and RahXephon (episode animation direction). Kurashima was especially important in animating Eureka Seven, directing animation for eight episodes plus serving as one of the character animation directors for the Eureka Seven Hi-Evolution movie series. More recently she did character design for Xam'd: Lost Memories(2008) and served as a chief animation director for Classroom Crisis (2015).


Click to open in new window