3. Mori watches Honey make green tea
Source: TV
Layers: 1
Sketches: 3
Cel Number: A1 END B1
Standard size

No Background

Added 11/21/2018
Updated 1/26/2019

Episode 3 ["Beware the Physical Exam!" Shintai Kensa ni Go-yōjin (身体検査にご用心)], cut 27. In the cold opening of this adventure, we are re-introduced to the members of the Host Club, including Takashi Morinozuka or "Mori," who is intensely watching Honey prepare a cup of green tea with a whisk.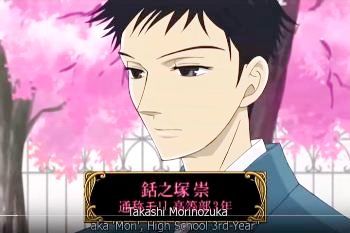 The rough featured above is probably the work of the episode's animation director, Hideyuki Motohashi [本橋 秀之]. Like many of the Ouran animation team, Motohashi was an accomplished animator with a long resume, including work on Sailor Moon (R and S seasons), Saint Seiya (Lost Canvas OVA), Cowboy Bebop, Detective Conan, Inuyasha,, and Magic Knight Rayearth. His most significant credentials include Character Design/Animation Direction for Ayashi no Ceres, Fushigi Yuugi and Hikaru no Go.

The sketch set also preserved the A1 END douga of Mori, which escaped being sold separately because it was a partial, accompanied by three mouth layers on separate sheets. I've digitally added the B1 mouth layer and added this as the first thumb. The second includes an interesting genzu by one of the studio team working out this mouth layer on a sheet of light green paper.


Click to open in new window