Shigure picks up the mail (gengas)
Source: TV
Layers: 1
Sketches: 3
Cel Number: B5 END
Standard size

No Background

Added 9/27/2018
Updated 9/27/2018

And here is the end keyframe that resulted from this discussion. Notice that Shigure's eyes have been revised so that he looks properly canine and just a little dangerous. As a result, the postman laughs nervously and makes a quick getaway, leaving the Sohmas safely behind closed doors with their baffled new friend.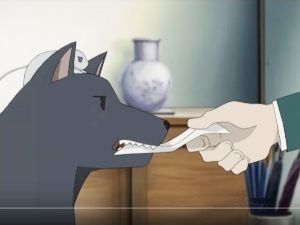 The thumbnails add the B1 and B2 gengas. It is interesting that the one featured appears to say "B5," but from the rough version and the screened footage it doesn't seem that two more keyframes were ever used. Perhaps the animators briefly planned out some additional action, then decided it wasn't necessary. In any case, you can see from the reanimation below that the action was properly more dramatic.

Shigure now seems to lunge up at the letter and pulls the postal carrier's hand down a little when he grabs it. One can imagine the poor man outside nervously counting his fingers as he makes his getaway.





Click to open in new window