Ep.5: An Onigiri in a Fruits Basket
Source: TV
Layers: 1
Sketches: 1
Cel Number: A1 END
Oversize, 10.5W x 16.5H

No Background

Added 9/27/2018
Updated 1/23/2020

Episode 5 (A Rice Ball in a Fruits Basket), cut 68. Tohru has been invited back to the home of her grandfather, where she had lived until renovations forced her to move into the tent where we found her at the start of the series. However, she has good reason to believe that her parents' counterculture life will make her the butt of her relatives' disdain. She ruefully recalls when she was in grade school and wanted to play "Fruits Basket" with the other children

The game is something like the familiar "Musical Chairs," with chairs set in a circle, one fewer than the group of players. All the players take the name of a different fruit, like "apple," "pear," banana,"etc., and the person who is "it" can force a player out of a chair by calling out that person's fruit. In a mean trick, Tohru is told to sit in one of the chairs and be an onigiri (rice ball) while all the other players are given names of fruits. Slowly she realizes what this means: the game unfolds all around her, but she is given no role in it except to sit in her chair and watch the others play.

"That's the story of my life," the grown Tohru thinks bitterly, "for there's never any room for an onigiri in a fruits basket."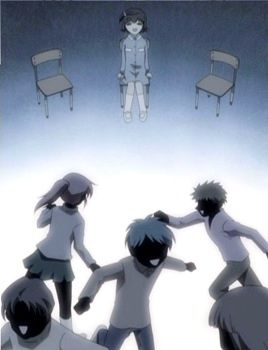 This fine layout, which is nearly identical to the final form of the keyframe, creates this iconic image. As the directions indicate, the shot begins with the frozen images of the other children, their faces eerily hidden in darkness, then slowly pans up to the isolated and motionless child Tohru, cruelly frozen in the middle of life's game.




SENSEI CHECK!

This episode was storyboarded and directed by the veteran animator Keiji Gotoh [後藤圭二], best known by followers of this gallery as the character designer and chief animation director of Hyper Police. Starting with Thundercats (1985, inbetweeners) and Transformers (1987, ditto), Gotoh's career took a more prestigious turn when he became character designer for Sorcerer Hunters (1995), Martian Successor Nadesico (1996), and Those Who Hunt Elves (1996).

Also a manga artist, Gotoh adapted the video game Gate Keepers (1999), then served as chief animation director of the anime adaptation (2000). During this he moved up to episode director, a job he also took the following year for Fruits Basket (this episode and 22). He became overall director for Kiddy Grade (2002) and has served as series director, episode director, animation director, and key animator for a variety of titles since then.

The episode's animation director was Haruo Sotozaki [外崎 春雄] another artist who graduated to the episode director's position. He supervised animation for six episodes of Fruits Basket (5, 10, 15, 20, 23-24) as well as being overall director for the last three of these episodes. Sotozaki put in quite a bit of work on the Inazuma Eleven franchise as well as for Naruto, then he became overall director of Tales of Symphonia (2007) and, most recently, of Tales of Zestiria the X (2016).

Sotozaki recently scored a major hit with ufotable as director for the action series Demon Slayer: Kimetsu no Yaiba(2019). This artist also did storyboarding and animation direction of the crucial first and last episodes of this adventure.