Tomoyo's Dream
Source: TV
Layers: 2
Sketches: 1
Cel Number: B10, C25
Standard size

No Background

Added 6/9/2003
Updated 4/24/2017

Tomoyo is drawn into a pink dream world, in which she sees whole lines of Sakuras in the costumes she has designed. This image shows the dream Sakuras in the costume from Ep. 23 in which she captured The Song. Sequence numbers: B10 (Sakuras), C25 (Tomoyo).

Like most multilayered cells being sold from this show, this set does not exactly match the combination actually used in the broadcast (see screen cap below) but -- close enough.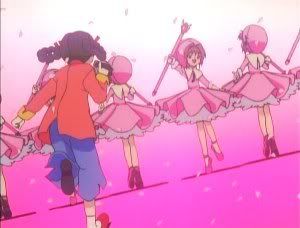 Screencap courtesy of Desertmoon.org


Click to open in new window