"The Scene" : Pre-transfer
Source: TV
Layers: 1
Sketches: 1
Cel Number: A16
Standard size

No Background

Added 6/9/2003
Updated 6/20/2013

The negotiation concluded, the two stand facing each other; then, Yue steps forward and places his hands gently on Touya's shoulders, while he awaits the result -- a little nervously it seems from this cel.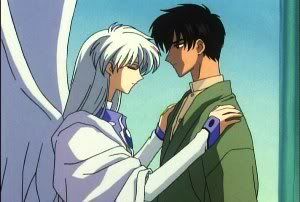 Screencap courtesy of Desertmoon.org




SENSEI CHECK!

This cel was actually only the third cel of Yue I'd ever bought. ("Handsome," the first item in this gallery, was the second and the first I resold some years ago.) At that time (and still to some extent today) Yue cels were very hard to get and went for prices beyond my modest means.

It was originally owned by another collector named kabukimoon, who'd put it up for offers. I'd previously bid on two Yue/Touya cels on YJ, both from moments when Touya's face was hidden behind Yue, and while this one was honestly represented as "stuck to sketch," I liked that both characters were clearly visible in this pose. I made a highish offer (for me, that is), and we eventually came to terms for a price within my budget.

When the cel arrived in due time, I cautiously investigated to see just exactly how tightly the cel was stuck. First I checked around the heads to see if there was any peeling at the hair tips, which happily there wasn't. Then I went on probing gently around the bodies and wings to find the stuck spot . . . and probing . . . and probing . . . .

And suddenly the sketch and the cel gently dropped apart. They weren't stuck at all, or at least no worse stuck than many other cels I've bought as unstuck but were stored or mailed by the dealer in direct contact with the sketch. The cel quickly became one of the most visited items in what had previously been advertised as "A 94.7% Yue/Suppi/Eriol/Ruby-Moon-free zone." (I still don't have any Suppi or Ruby Moon, and only two sketches and one cel of Eriol.)

It was a genuine surprise, nearly five years later, to find myself suddenly the owner of four more cels bookending this memorable moment.




Caution! Fussy Notes

Needless to say, cels from this scene (and even more so, from the next one) are cherished prizes in many online galleries. Cels like this one, falling before the power transfer, seem harder to find than those after. Possibly this is because Yue and Touya were painted on different layers in the first part of the cut, and weren't united on the same layer until they actually touch.

But six other RS galleries have sequence mates from this cut: Forever Dreaming has an A5 cel of Yue alone, Excelation: A Cel Gallery has the A7 combined with an unnumbered Touya layer, Cel Envy has the A11 (now both are on one layer), Gecko Blue Cels has the A22, and Jenny & Katie's Cels has another cel from near the end of the cut.

Finally, Red Eye has an A34/B11 combo and a spectacular A35/B29 combo from the very end of the cut, showing Yue beginning to glow and bathe Touya in brilliant light. Both these are scanned with the original matching background, also a prize of Kaona's collection.

From what I can tell, only Forever Dreaming has a cel set (B1/C39) from the following cut, showing the actual power transfer itself.


Click to open in new window