Tutu reacts to the Raven's challenge
Source: TV
Layers: 1
Sketches: 1
Cel Number: A1
Standard size

No Background

Added 7/23/2018
Updated 1/31/2020

As the Raven taunts Mytho, Tutu stares up at the Prince's antagonist, beginning to grasp how difficult it will be to bring this plot to a happy conclusion.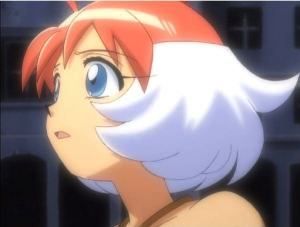 This singleton sketch, drawn on white paper, comes from a larger sketch set that was broken up for sale, like most of the surviving Tutu artwork. The gengas and shuusei gengas for this cut survive and are owned by SAZEN's gallery.

The sketch featured above corresponds to the A1 in this series, but is different in many ways from the final version, so it may be a genzu or practice drawing for a rough or layout correction. As you can see from the screencap, the keyframe was later extensively reworked. You can see some of this reworking in SAZEN's A1 genga, which was trimmed on the top and remounted on a new set of registration holes to lower the angle of Tutu's head. The image was refined further in
a fine genga shuusei by Ikuko Itō (with her identifying "T⅔" label) that is also owned by SAZEN.

My preliminary image, roughly begun in orange-brown colored pencil and worked up in deft touches of graphite, is already a fine three-quarters profile (like many in Asatte no Hōkō, on which Ikuko Itō also worked). The foreshortening on Tutu's right eye is dead on from the start.