Kotomi: "Mission Accomplished!" reanimation (in color!)
Source: TV
Layers: 1
Sketches: 9
Cel Number: A1-A9 END
Standard size

No Background

Added 6/23/2018
Updated 7/12/2018



This cut was so crucially important to the episode, indeed to the entire series, that the studio had all the individual colorized frames laser-printed for careful inspection. That set of color tests, the first I've ever seen for this series, were preserved with this set, and as they are all complete, I've reanimated them with help from the timing sheet.

The A1 frame pauses for a quarter second, then A2-A8 fall in at the usual 8-to-a-second rate, with the A9 END frame lingering for two-and-a-quarter seconds. Still scans of the A1 and A9 END color test frames are added in the thumbnails.

Thank you, Kotomi and Kotomi's Father!




Caution! Fussy Notes

These color tests came prefaced with a note: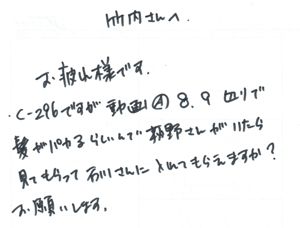 Transcribed and translated by Van Donovan of FB's Anime Cel Collectors' Group (with a correction from Yoshimichi Majima), this reads:

竹内さんへ

お疲れ様す。

C-296ですが動画Ⓐ8、9せりで髪がパヤるらしいんで 萩野さんがりたら見てもらって石川さんにとれてもらえますか?お願いします。

(す)

To Takeuchi-san.

Thanks for the hard work.

In C-296 douga Ⓐ 8, 9 seems to have some hair poking out. Can you get Hagino-san to have Ishikawa-san take a look at it? Thanks.

-"Su"

Now look at the way Kotomi's hair moves around her collar. In the last two frames it looks as if one of her hair locks just sprouts out of nowhere. That's an inbetweener's mistake: that lock should have brushed over Kotomi's shoulder, to end up where the key animator wanted it to finish.

And if you screen the DVD, you'll see the impact of the kabuse that was ordered: that big lock now does slide over Kotomi's shoulder, ending up where it belongs. Details, details.

"Takeuchi-san" is Gen Takeuchi, who was credited as "Production Advancement Chief" for Ep. 12. Hagino-san is Nobuko Hagino, a J. C. Staff In-Between checker. Ishikawa-san is either Kyousuke Ishikawa, one of the clean-up/color setting inspectors, or Takahiro Ishikawa, another of the Ep. 12 "Production Advancement" team. "Su" could be a lot of folks, but I'm guessing Kaoru Suzuki, also part of the Ep. 12 "Production Advancement" bunch.

I'm not sure exactly what "Production Advancement" involves (nearly all the Google hits are to ANN credit lists), but I assume that it subsumes all the steps needed to advance pencil-on-paper sketches produced by the animation team to the production of the digital animation footage that is the final product. That is, getting the artwork properly scanned and colorized and timed, at which point inconsistencies logically are spotted and corrected.


Click to open in new window