Shōko-chan pretends to be the lost Karada
Source: TV
Layers: 1
No sketches available
Cel Number: A1, A2
Standard size

No Background

Added 6/21/2018

Cut 206. The various ends of the tangle plot begin to resolve, but the four shrine-crossed lovers have to dissemble to get themselves back home. So the little-girl Shōko agrees to present herself to Tadashi and Yuka, the B&B folks who have helped out Karada and Tetsu, as the little-girl-lost-now-found-again. Here she puts on her very best "happy child" look for the benefit of the show.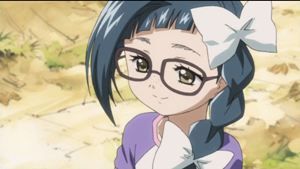 This small sketch set lacked the layout and rough stages and consisted of the A1 genga featured above, plus an A2 keyframe showing Shōko closing her eyes and nodding sharply in a cute "happy-but-embarrassed" move. That meant that her hair and hairbow needed to react, so extra sketches worked out this action. The second thumb adds the A1 douga, which was complete.

The genga shuuseis were partial and not very interesting, so I've not imaged these, but from distinctive features in the way the artist labeled the sequence numbers, I'm sure the animation director for this scene was Ryoichi Oki rather than Masahiro Fujii.



Click to open in new window