Shōko meets Kotomi: A1
Source: TV
Layers: 1
Sketches: 3
Cel Number: A1
Standard size

No Background

Added 6/16/2018

Ep. 5, cut 94. Wandering off by herself, Shōko encounters a group of children, about the age she's backtracked to, who are playing a game. This reminds her of when she really was that age and considered joining in a game, but hesitated too long. Full of thoughts, she watches the game from the sidelines, then suddenly a form walks up beside her. "What's the matter?" the older female asks, kindly.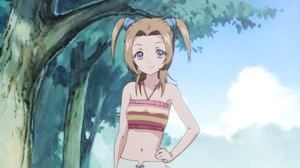 We aren't formally introduced at this point, but the newcomer is Kotomi, an important player in the story arc. In this short cut, she comments that Shōko looks depressed and asks if she's had a fight with the other kids. Featured is the A1 genga, showing her characteristic tight smile, which I've often thought reminded me of how a bug smiled. This set lacked the layout/rough sketches, so I've added the two levels of genga shuusei, the first by episode director Sumie Kinoshita, the second by her supervisor, senior animation director Ikuko Itō.




SENSEI CHECK!

The character of Kotomi does not appear in the original manga by J-ta Yamada, but was invented for the anime. Seemingly carefree and a little feather-brained, she clearly knows a great deal more about the characters than first appears. In fact, she functions as a kind of dea ex machina throughout the series, appearing just when characters need to be pushed into action so that the plot moves smoothly ahead toward conclusion. This is her role here, though Shōko initially finds her approach a little too pushy and too close to the psychological truth. But in fact Kotomi's encouragement has more impact on the burned-out-woman-grown-young-again than at first appears, as the conclusion of this fine episode shows.

Kotomi's uncanny nature comes to the front most obviously in the closing moments of Ep. 12, when a stealthy act of hers resolves the whole tangled plot. But her act is so quick and unobtrusive, you probably need to watch this scene more than twice to spot it. Then it would be a good idea to re-watch the series, at least from Episode 7 on, to watch how she prepares for this sneaky series-ending trick. And, it might be a good idea to ask whether this tricksy dea ex machina is a human being at all -- or is she really a dea, a clever assistant to the mischievous kami in charge of that little shrine that causes all the trouble?

In any case, the role was seen as important enough that the studio cast the voice acting part very strongly. Ami Koshimizu has a long list of credits in recent anime productions, most recently as the seiyuu of another mischievous kami, the wolf spirit Holo (or Horo) in the hit series Spice and Wolf .


Click to open in new window