Ep. 5: Hiro and Shōko wake up
Source: TV
Layers: 2
Sketches: 3
Cel Number: A1 END, C1, C3 END
Standard size

No Background

Added 6/13/2018
Updated 6/13/2018

Ep. 5. After the opening credits run, we see Hiro's apartment in the early morning. Inside, the two "adults" are sitting up in bed, still groggy from being awakened, for Karada is already busy in the kitchen, preparing breakfast with her usual expert touch.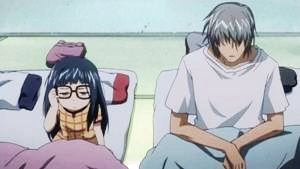 This incomplete sketch set lacked its layout/rough stage, and the genga shuuseis were not very interesting. Featured is the A1 END genga, showing the futons and pillows, with an immobile, impassive Hiro staring at Karada's cookery. The thumbs add two very funny genga images (C1 and C3 END) showing Shōko sleepily donning her glasses to see what's going on. The dougas for this action were all complete and so proved to be the highlight of this sketch set (see next item).




SENSEI CHECK!

This episode was directed by Daisuke Takashima [高島 大輔], who also took charge of the crucial opening episode of the series, as well as Ep. 10. Takashima has done extensive work as episode director, in Ai Yori Aoshi, Honey and Clover, and many other lesser known series. Recently he has seen wider exposure for episode directing in Brave Witches (2016) and Cardcaptor Sakura: Clear Card Edition (2018).

Sumie Kinoshita [木野下 澄江] was credited as the episode's animation director and also contributed to Ep. 10. This was a new assignment for this artist, as shown by the large number of shuusei sketches that appear in these sketch sets. She moved up to character designer for the The Mystic Archives of Dantalian (2011) and since has taken on the role of Chief Animation Director in a number of series, including Medaka Box (2012), New Game! (2017), A Sister's All You Need (2017), and Piano Forest (2018).


Click to open in new window