Toko twits Shoko about her relationship with Hiro
Source: TV
Layers: 1
Sketches: 3
Cel Number: B1
Standard size

No Background

Added 5/22/2018

Shōko accepts Karada's invitation to come along with her friends to the beach. But, as we learn through flashbacks, she used to live with Hiro (Karada's "big brother") when they were in college in the US, and she still resents the way he abandoned her so abruptly and returned to Japan. Yet she can't help staring in a melancholy way at both Hiro and the little girl who's so visibly taken her place.

Toko (Tetsu's older sister and another close observer of the hunky guy) notices this and starts joking with Shōko about her attraction to Hiro, worming some of this information out of her in a way that makes the traveller even more uncomfortable.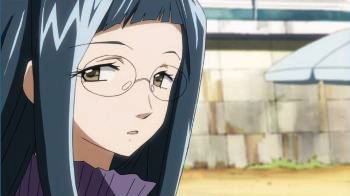 .

This sketch set begins with a nice three-quarters profile of Shōko, who's now looking at her little-girl rival over by the beach table. This sketch set lacked the layouts and roughs, but (like other three-quarters portraits in this set) it obviously gave the animation crew an unexpected amount of trouble. Featured above is a full genga shuusei, I believe by the episode's animation director of the episode's animation director, Ryoichi Oki. The thumbnails add the B1 genga that Oki's sketch corrected, and the finished B1 douga.

One interesting feature of this particular series of cuts is how often Oki did genga shuuseis. As you can see from the "flicker" of the genga and the genga shuusei below, the revisions are relatively minor, dealing with the eyes and the shadows/highlights of the hair.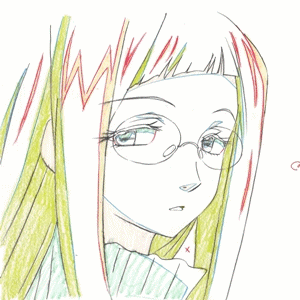 Most animation directors are content to make these changes using partial sketches that include only these details, and it's not clear why Oki took the time to fill in the parts that were fine as-is in the genga. Perhaps Senior Animation Director Ikuko Itō wanted it that way, finding a complete shuusei easier to review and add her final touches. Some of these sketch sets do indeed contain two levels of review, with Itō correcting both Oki's rough and his genga shuusei.




SENSEI CHECK!

Ryoichi Oki (大木 良一), episode director for Ep. 1, has a distinctive style, rather angular in the approach to characters' faces, and he liked to fill in shadows with a surprisingly bright orange colored pencil. One of the series' regular animators, Oki also worked on Episodes 3, 8, 10, and 12, and you can spot more of his work in the galleries devoted to later episodes.

Like much of the animation staff, Oki was a veteran of Revolutionary Girl Utena (gengas); the artist also worked on Ai Yori Aoshi (ditto), and Excel Saga (episode animation direction). Since then, Oki has worked more widely, notably as one of the Chief Animation Directors of the harem series Hayate the Combat Butler. (The other chief AD was Masahiro Fujii, animation director for AnH's Ep. 7.) More recently, he was chief animation director for the 2012 comedy series Joshiraku and both character designer and chief animation director for Minami Kamakura High School Girls Cycling Club (2017).


Click to open in new window