Ep. 79: Geta attack on a Dragon
Source: TV
Layers: 1
Sketches: 3
Cel Number: A1, A3, A5
Standard size

No Background

Added 2/9/2018
Updated 2/9/2018

Episode 79, "Yōkai Yamata-no-Orochi" [Eight headed dragon, 妖怪やまたのおろち]. In this sequence, an Orochi, or traditional styled Asian dragon with sharp teeth, fur, and long koi-like barbils trailing from his nostrils, is shown in a menacing posture. Then Kitarō's geta come flying up from below. They clobber the monster on the jaw, knocking him silly.

Here I've featured the A1 start keyframe with the A3 (contact) and the A5 (end, falling back) in the thumbs. All of these use the interesting strategy of using a black marker to indicate shading, producing an especially exciting chiaroscuro impact. This must have been a common artistic strategy at the time for Toei Studio: see a similar use of marker elsewhere in this gallery in images of Odoro-Odoro and of "Mammoth."

The sketch set also included two sketches of the geta homing in on the Orochi and one planning a special effect to emphasize the direct hit. Move ahead one to see the whole set reanimated in an experimental way.




SENSEI CHECK!

This adventure focuses on an encounter with the Yamata-no-Orochi, an 8-headed dragon that plays a critical role in Japanese mythology. The nation's origin myth holds that Susanoo, the wind-kami, once battled this monster to save the daughter of a regional kami from being sacrificed. The legendary hero then found a fine sword in the monster's tail, which was presented to the sun-kami Amaterasu and subsequently was passed down to the ancestors of the Japanese Emperor as one of the Three Sacred Treasures.

Whatever ancient history lies behind this myth, scholars note that the slaying of a many-headed dragon by a semi-divine hero is a common motif in world mythology. In the Western world, this motif is familiar through the myth of Perseus rescuing Andromeda from the sea monster and also from the Christian legend of St. George saving the king's daughter Sabra from a dragon. In the anime version, the mortal Yumiko plays the role of the young girl in danger of being sacrificed, and Kitarō takes on Susanoo's task (once he gets himself loose!).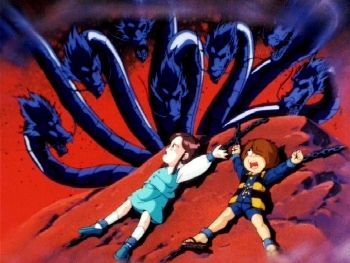 The series, sadly, is unavailable in the West, and online summaries are partial and difficult to translate. However, I gather that at the climax of the episode Kitarō is able to multiply his physical presence by eight, a moment pictured on the cover of the DVD release.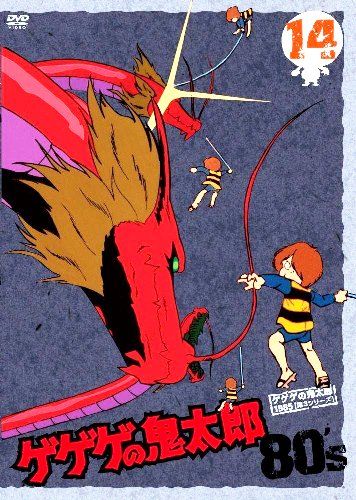 This allows the hero to use all of his magical attacks simultaneously on all eight heads and so defeat this formidable mythological menace. The genga set thus depicts the part of this scene in which one of the Kitarō avatars uses his remote-controlled geta to disable one of the Orochi's heads.




SENSEI CHECK EXTRA!

Tomoyuki Matsumoto [松本 朋之] was animation director for this episode and 17 others in Kitaro Series 3. His credits show a wide range, from the children's series Crayon Shin-Chan to the interesting Takashi Nakamura TV series Fantastic Children to the CLAMP-based xxxHolic.


Click to open in new window