Noelle practices flying on the school roof (night)
Source: TV
Layers: 1
No sketches available
Cel Number: A1 END
Standard size

Key Cel
Original Matching Background

Added 2/2/2018
Updated 2/2/2018

Ep. 12, cut 82. Ruka has created a mechanical set of wings for Noelle to allow her to fly through the power of science. Accompanied by Baba's companion, the buzzard Nekhbet, she climbs to the roof of the school and prepares to sprint down the ridgeline quickly enough to take off.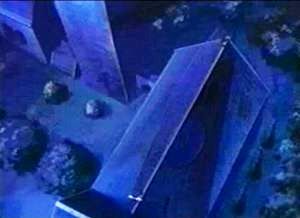 The background, like many prepared by Studio Pierrot, is surprisingly detailed given the short time it appears on the screen. Click the first thumb to see it more clearly, with the cel removed. The buildings are done with a surprising amount of complex detail, and from an odd overhead angle, making the perspectives tricky to handle. The second thumb adds a detail from the upper left corner, showing some of the unexpected windows and sets of stairs that the artist added to make the image look like a real complex of buildings and not just a blue box.

This scene runs into another that shows the school and clock tower from the side, also lit in night colors. Much of the same animation was used again later in the same episode, this time using daylight colors. One of these is added after the next item later in this gallery.


Click to open in new window