OP: Old Home (Background)
Source: TV
Layers: 1
No sketches available
Standard size

Copy Matching Background

Added 1/29/2018
Updated 1/29/2018

As in the rilezu of Kana, Nemu is posed with her back to Old Home, the dilapidated dormitory building that the Haibane have claimed as their home during their stay in this world. The façade in this cut is similar, but appears to show the building with a stark gray front devoid of windows or masonry, except on the right edge and along the top story to the left of Nemu's face.

But as you can see in the small version of the set-up with the cel layers (below), Nemu takes up most of the space in the foreground. So the artist did not need to fill in all of what the exterior of Old Home "really" looked like behind and left these parts undeveloped.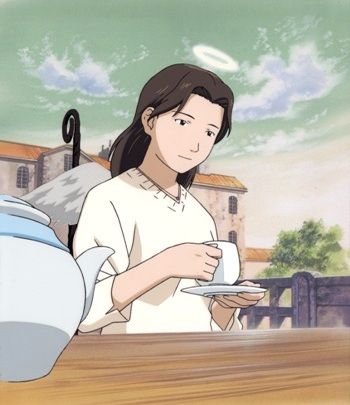 Still, in the parts that were intended to be visible, you can see the artist's keen attention to detail. A detail from the center roof line is added in the first thumb. The second thumb is a snapshot of the set-up with the frame that came with it, decorated with the Office F&O certificate of authenticity.


Click to open in new window